khatam.ac.ir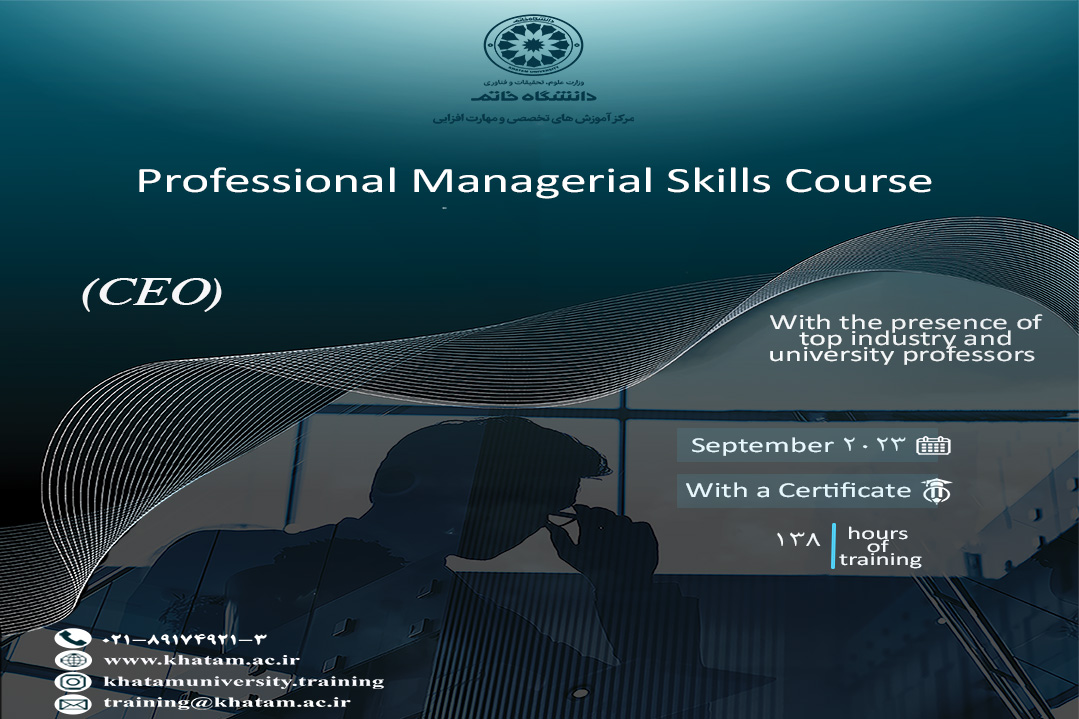 A Professional CEO Course for Managers at Khatam University
Published: Monday, August 28, 2023
In order to increase the managerial skills of managers and business owners, the Center for Specialized Training and Skill Development of Khatam University has organized a professional CEO course.
According to Khatam University's website, Khatam University's specialized training and skill development center has organized a professional CEO course in order to increase the skills of managers and business owners, which focuses on preparing managers to tackle with the most challenging issues that may arise at their workplaces.
This course is completely interactive and all sessions are designed in such a way that necessary experiences and knowledge can be shared between the course instructors and students.
When a person is appointed to the position of the CEO of an organization, they face many challenges and obstacles which may seem very difficult to cope with. In order to deal with these challenges and obstacles, a person needs certain skills and abilities. A successful manager must have the ability to plan at different levels; analyze strategies, the company's financial situation, and human resources; interact with the board of directors and communicate with people inside and outside the organization.
In addition, strong leadership, communication and problem solving skills are important for a manager at any organizations. If a manager does not have the ability to manage the arising challenges, the company may face serious consequences. As a result, managers must have strong management skills and enough experience.
Objectives of the course
Getting to know the key roles of a CEO;

Having strategic planning and management skills;

Familiarity with financial statements and budgeting;

Building better relationships with shareholders, boards of directors, investors and communities;

Getting to know the necessary skills and empowering managers;

The ability to find the organization's problems and make the best decisions;

Analysis of future opportunities.

Advantages of the course
Awarding a valid certificate at the end of the course;

Benefiting from experienced instructors and exchanging information and experiences with them during the course;

Presenting fully practical and executive topics that suit the needs of CEOs;

The possibility of reviewing the videos of the online sessions of the course.

Course instructors
A group of top instructors
Course audience
Business owners;

Senior managers of organizations;

Managers who are looking for a CEO position;

Managers who wish to start a new business;

All managers and those interested in the CEO course;

Managers and experts of holding companies and specialized companies.

Admission requirements
Bachelor's or Master's degree;

At least 5 years of work experience;

Passing the entrance interview.
Course hours
138 hours of professional training.
Method of Operation
Virtual (online)
Course tuition fee
20 million tomans.
How to register
Registration is done through Khatam University's website. To get more information about the registration procedure, you can contact the specialized training and skill development center through the following communication methods.
Phone: 021-89174921-3
Instagram: khatamuniversity.training
Email: training@khatam.ac.ir