khatam.ac.ir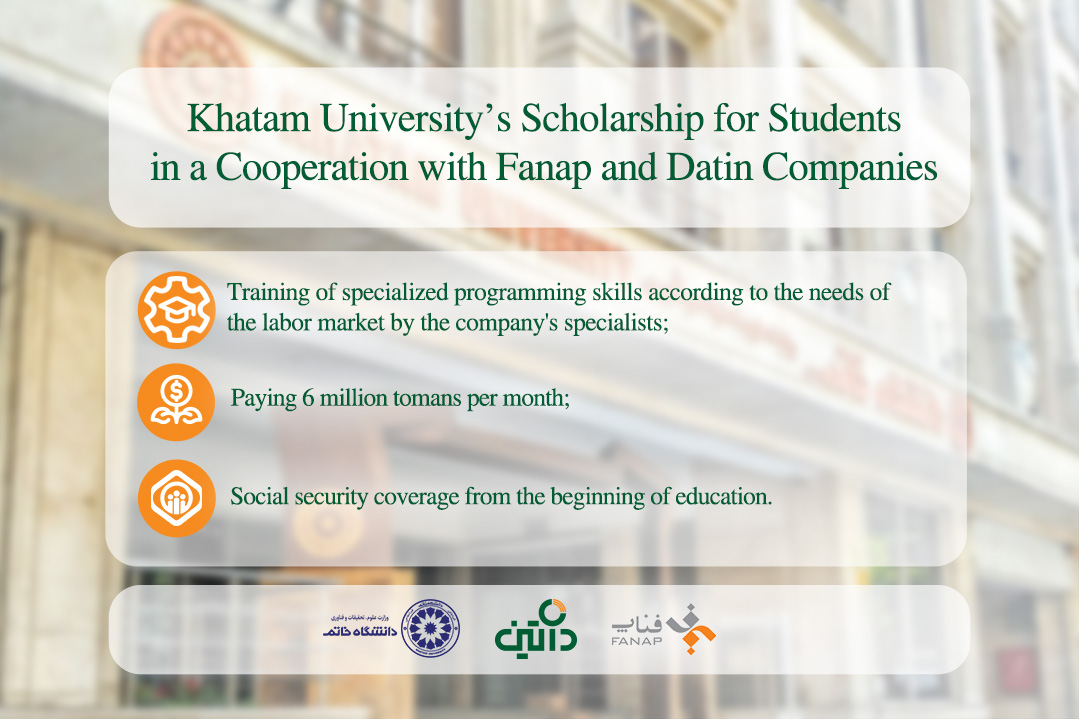 Khatam University's Scholarship in Cooperation with Fanap Group Companies
Published: Wednesday, June 14, 2023
Khatam University issued a notice regarding the admission of funded students in cooperation with Fanap Holding in the field of computer engineering for the academic year 2023-2024.
According to the website of Khatam University, Fanap Holding provides scholarships to students with the highest ranks of the 2023 entrance exam (up to rank 5000) for the computer engineering major at Khatam University in the academic year of 2023-2024. The students with the ranks higher than 3000 can also benefit from the scholarship if their first and second semester GPAs are higher than 19 (out of 20), with the approval of the relevant committee in Fanap.
The benefits of this scholarship are as follow:
Teaching soft skills and preparing students for the labor market;

Training of specialized programming skills according to the needs of the labor market by the company's specialists;

The possibility of employment and internship in Datin and other Fanap holding companies (without legal service obligation);

Career path and management advice with the help of experts of these companies;

Taking advantage of the group study environment with the instructor and teaching aids;

Planning a visit to Datin and other Fanap holding companies and getting to know the work processes;

Material and spiritual support for students to participate in events and competitions;

Career and management advice with the help of these companies' experts;

Internship in Fanap Group companies;

Employment in Fanap Holding after graduation.
The general terms are as follows:
Paying 6 million tomans per month;

Social security coverage from the beginning of education;

Provision of dormitory for students who are from other cities;

Exemption from paying the tuition fee.
Further Explanation
The payment of monthly fees and exemption from tuition will continue as long as the average of the semester is above 18.
Note 1:The possibility of employment in Fanap holding companies is one of the privileges of this plan, and students will not have a legal service obligation for this privilege.
Note 2: Filling the form does not mean choosing a major. The process of choosing a major, like other universities, will be done through the evaluation organization's database at the time of major selection.
To complete the registration form, click here.
It is worth mentioning that Fanap was established in 2005 with the investment of Pasargad Financial Group and the cooperation of a group of elites and graduates of the country's top universities. Designing and providing a native Iranian banking solution, providing comprehensive solutions for insurance, stock market and managing and processing financial transactions, designing and implementing a comprehensive organizational and industrial solution in the form of the largest software project in the country, setting up an innovation center and acceleration of start-up businesses and an electronic equipment manufacturing factory are amongst the achievements of Fanap Group until today.
If you need more information, you can contact our office at Datin Study and Research Center and speak with Ms. Nazanin Tavakoli (2459700-1680 or 09192388042).
You can also contact Khatam University directly and ask questions about the above scholarship through the following communication methods:
02189174917
02189174902
@khatamuniversity
Tags:
Educational classes
Fanap Academy
Fanap Holding
Khatam University
Scholarship
fanap